Business Savings
Our Official Membership Account and It's Free!
This account provides your business membership into our credit union and access to all of the benefits of a credit union membership. The initial minimum deposit to open is $5.00, and serves as the share of ownership in the credit union. This $5.00 will be placed on hold throughout the life of the membership. Dividends are calculated daily, compounded and credited monthly to the account. There is no monthly service charge.
Business Checking
One account, Two options:
Our First Option is Free!
By maintaining a minimum daily balance of $500.00, your business account will no longer be subject to a monthly service charge or a per item fee.
Our Second Option is a great alternative!
If your business chooses to maintain a daily balance under $500.00, your business will be charged a small monthly service charge of $3.00 and a per check written fee of $0.25. Both accounts offer unlimited check writing and debit transactions. The initial minimum deposit to open is $50.00. Debit Cards are available for checking accounts.
San Antonio Citizens Federal Credit Union is committed to the financial success of our local businesses. We understand the importance of a relationship between the small business owner and their financial institution, and pride ourselves on providing products and services to assist our small business owners in all areas of their financial management.
We offer a variety of business lending options with competitive rates and flexible terms to meet the individual needs of each business owner.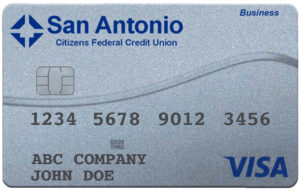 Business Credit Cards
Our Business Credit Cards provide you with the ability to issue multiple employee cards with set limits. Current Business Credit Card rate is 9.90%.
Business Lines of Credit
Our business line of credit offers the flexibility of an operating line of credit for short term borrowing needs. No need to worry about running short on cash, we are here to help!
Vehicle and Equipment Loan
Are you looking to add additional vehicles to your fleet? Do you need to add or replace a piece of equipment? Let us help you!
Commercial Real Estate Mortgages
Have you dreamed of owning your own building? Would you like to expand your existing footprint, or build your new warehouse or office space? We have programs to assist you with fulfilling your goals!
Contact our Business Lending Specialists for additional information or to apply.
San Antonio Citizens Federal Credit Union has partnered with The Merchant Depot to offer credit card processing options to our members. They offer an array of equipment options and are competitively priced. If you are interested in a price comparison or to begin a new service, please contact your local branch or email us here.