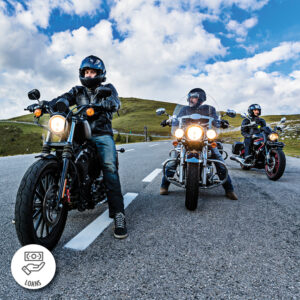 Q: My motorcycle loan is killing my budget, and I'd love to refinance to ensure I can keep my ride. What are the benefits of refinancing my loan through my credit union?
A: Refinancing a large loan, such as a motorcycle loan, into one that offers more affordable payback terms can make a huge difference in a monthly budget. Here are six reasons you may want to refinance your motorcycle loan through your credit union.
Lower interest rates
Credit unions consistently offer interest rates that are lower than those offered by banks. In fact, the most recent data shows the interest rate on an average 60-month new car loan through a bank is nearly two points higher than a similar loan taken out through a credit union. Refinancing your motorcycle loan through your credit union can help you save a significant amount over the life of your loan.
Favorable terms
When you refinance a loan through San Antonio Citizens Federal Credit Union, you can count on favorable payback terms to help ensure your payments are affordable. Our member service representatives will work with you to come up with a repayment plan that works best for your budget.
Easy eligibility options
As a member of San Antonio Citizens Federal Credit Union, we always have your back. Our primary goal is to provide you with services and products that enable you to manage and save your money in the most optimal ways possible. To that end, our loans are always accessible and open to our members. Eligibility requirements are reasonable, and as long as you manage your money responsibly by meeting the payback terms, you'll likely be approved for a refinance on your motorcycle loan.
On the flip side, when you apply for a loan through a big bank, you may be met with tight restrictions and strict requirements. But why jump through so many hoops to get the loan you need when your credit union is looking out for you?
Quick approval process
When you decide to apply for a refinance loan, we'll get you started on the application process and you can have the funds you need in as little as 24 hours.
Superior service
When you apply to refinance your loan at San Antonio Citizens Federal Credit Union, you'll enjoy the personalized service and attention you've come to expect. As a member-owned and member-operated institution, we put your needs on the front burner and we're always happy to explain a process, assist with an application, and answer any other questions you may have. Every member is part of the San Antonio Citizens Federal Credit Union family, and is treated as such.
The interest comes back to you
As a member-owned cooperative, your credit union passes the "profits" right back to its members. This means that every time you pay interest on a loan that's funded through San Antonio Citizens Federal Credit Union, the money comes back to you in the form of dividends on savings accounts and share certificates, investment in technology, classes on financial education and lower interest rates on large loans, like mortgages and auto loans.
Are you looking to refinance a motorcycle loan? Call, click or stop by San Antonio Citizens Federal Credit Union today to get started.