Are you ready to buy a boat? First, determine the kind you want to buy. To help you hit those waves sooner, we've made a handy guide of the most popular boats on the market.
1.) Bowriders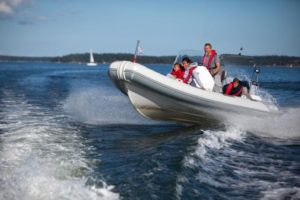 With their versatile design and open bow cockpit, bowriders are an all-time favorite. Take her out for a day trip, invite your friends over for a ride at sunset or get your adrenaline boost by attaching a pair of water skis. There are generously sized bowriders on the market, but most people prefer the classic smaller styles. They're affordable, yet still big enough to comfortably fit the whole family.
2.) Cruisers
Cruisers are powerboats that are equipped with overnight accommodations, a galley and the ability to take you far. They're perfect for extended vacations and trips to foreign ports.
You can choose to buy a convertible cruiser, an express, a motor yacht or a small pocket cruiser.
3.) Freshwater fishing boats
These boats are a must-have for fresh-fish aficionados. Here are three of the most popular freshwater fishing boats:
Bass boats.

These expensive boats are designed for catching largemouth bass. They're super-fast and equipped with lots of accessories, like high-tech fish-finders and livewells.

Multi-species boats.

 These come in greater variety of styles than bass boats, making them ideal for fishers who love to catch a variety.

Aluminum fishing boats.

 If you want a cheaper fishing boat, you can find an aluminum jon boat for less than $5,000.
4.) Pontoon boats
Pontoon boats are wildly popular for good reason. They can be sleek, shockingly fast and offer loads of deck space.
5.) Saltwater fishing boats
If you love stalking the mangroves for striped bass and tuna, you might need a saltwater fishing boat. Here are some of the most popular:
Bay boats.

These shallow boats were primarily created for plying inshore waters.

Center consoles.

These popular boats range from dinghy-sized to true behemoths. Most center consoles are no-frills, though more expensive models come with luxury amenities.

Convertibles.

These inboards have large aft cockpits and tall flying bridges.

Expresses.

Some offshore anglers love these smaller boats since the helm is right near the action.
6.) Speed boats
Get out on the water in one of these hair-raising, adrenaline-pumping boats. They don't have much space or accessories, but you'll get a thrill out of every ride!
7.) Watersport boats
If you use the water for sports like wakeboarding, water skiing and wake surfing, you'll need a watersport boat. This genre comes with a towing point for watersports of every kind, but isn't very practical for overnighting, fishing or beaching.
When you're ready to buy that boat, don't forget to call, apply for a loan online, or stop by SACFCU to learn about our boat loans! 
Sources:
http://www.boats.com/boat-buyers-guide/how-to-buy-a-boat-tips-for-a-first-time-buyer/
https://www.discoverboating.com/resources/article.aspx?id=134