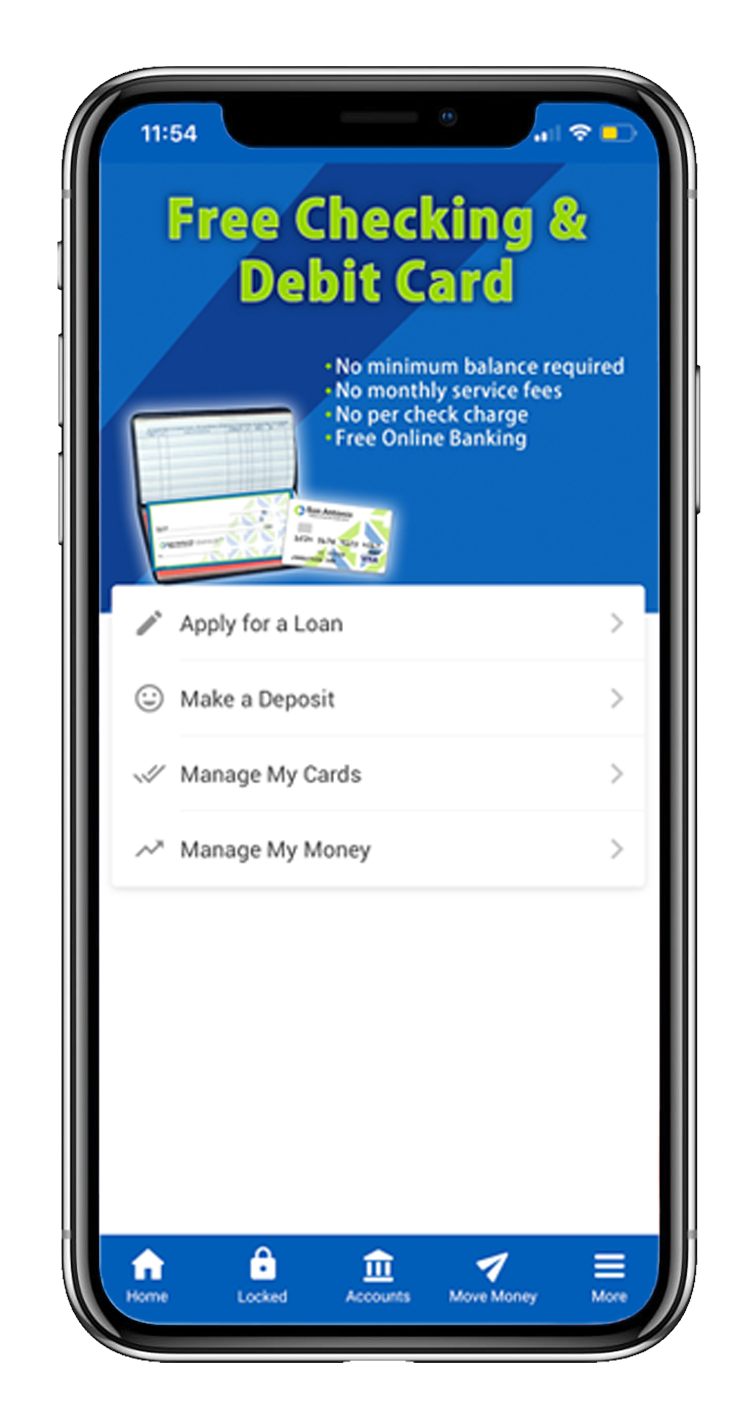 The days of driving to a branch to deposit your checks are over!  Mobile deposit lets you deposit checks into your accounts using you smartphone or table, simply by snapping a picture!  Once you download the SACFCU Mobile App, click on "Mobile Deposit".  Enrolling is free!
Frequently Asked Questions
1. Is There A Fee To Use Mobile Deposit?
No, our Mobile Check Deposit is free for our members!
2. Where can I access Mobile Deposit?
Sign into the Mobile App, Choose the option "Move Money" at the bottom of the page, Click "Deposit Check."  
3. What Platforms Are Currently Supported?
As long as you can use the Mobile App, you will be able to use the Mobile Deposit feature. Our app currently supports the iPhone, iPad, iPod Touch, Android phone, Android tablets and the Kindle Fire.
4. Is Mobile Deposit "Check 21" Compliant?
Yes.
5. Can any member enroll in Mobile Deposit?
Mobile Deposit is open to members that have a SACFCU checking account, online banking and E-Statements.
6. Is Mobile Deposit Secure?
Yes – Mobile Deposit features two-factor login authentication and data encryption.
7. Do I Need To Provide Any Additional Information On My Check When Using Mobile Deposit
Yes – Please make sure to endorse the check and include the account number and the words "For Mobile Deposit Only at SACFCU" on the back of the check.
8. Do I Need To Keep My Check After Submitting It Using Mobile Deposit?
Yes – We encourage you to keep your paper check until you get your next statement, so you can verify that everything posted accurately.
9. How Long Does It Take For A Check To Post Using Mobile Deposit?
Checks will post within 1-2 business days.
10. Are there different "check hold" rules for   Mobile Deposit?
Mobile Deposit is not subject to Regulation CC, therefore, you agree to any and all check holds in which the credit union deems necessary.  Often times though, check holds are not found to be necessary. 
11. Are there any types of checks that are not accepted through Mobile Deposit?
Yes – We're unable to accept Treasury checks, Money Orders, Savings Bonds, Tax Refunds, Foreign Checks, Third Party Checks, Stale Dated Checks, and Postdated Checks. 
12. How will I know if my check has been accepted or rejected?
When you sign into the Mobile App, proceed to the Mobile Deposit section.  There is an option to "View Mobile Check Deposit History." There you can find if your check has been accepted, rejected, or is still in review. 
13. My Mobile Deposit was rejected, why?
Most common reasons for mobile deposits being rejected are:

 

Check endorsement does not meet the standards (see question 7).
Check is payable to a person or entity not on the account.
The check type does not meet the requirements (see question 11).
Bad image – please be sure to get a clear image of both the front and back of the check before submitting.

 

Over the maximum daily limit.