Student Loan Repayment web bkgrd
REPAY STUDENT LOAN DEBT
WITH CONFIDENCE.
If you're facing student loan repayment this fall or managing debt on your own, our partners at GreenPath Financial Wellness can help.
2023 ShredDay 1200 x 350 web banner
Saturday, September 30 | SACFCU Dade City Branch | 9-11 a.m.
Loanpay Xpress 1200 x 350
Make quick and easy loan payments from anywhere with Loanpay Xpress.
CC Limit Increase and Balance Transfer Web Banner 1200 x 350
Auto Loan web banner 1200 x 350 version 2
Over 4 million cars in inventory.
Which is yours?
Home Loan Fall 2023 version 2 web banner
Consolidate your debt & lower your payments
with a HELOC.
Testimonials
When my son was about to retire from the Marines 11 years ago, Carrie made it possible for him to have a home after retirement with no hassle. Carrie is an asset!
Terri - a member since 1977.
All I have to say the ladies/gentlemen who work at SACFCU are the best customer service individuals I have ever seen, Thank you 🙏.
Dan - a member since 2007.
Three generations of our family are now banking with SACFCU. We all enjoy the excellent customer service provided.
Debra - a member since 1993.
I have been a customer for almost 16 years. The Friendly, helpful, and courteous customer service that my wife and I receive from SACFCU is exceptional. One of my favorite tellers is Savitri. She is... Read More from Michael -
Michael - a member since 2006.
I have the good fortune of banking with SACFCU for several years now. I find the staff in every single branch of SACFCU to be centered towards the member's best interest and welfare. The staff in... Read More from M. S. -
M. S. - a member since 2018.
SACFCU in Zephyrhills, Florida, has the best bank tellers with their outstanding customer service, resolved customer concerns and they help build customer loyalty. They have excellent communication... Read More from John -
John - a member since 2020.
Submit a testimonial!
Community Involvement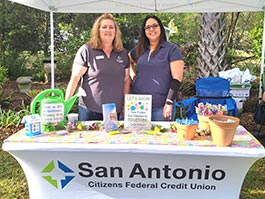 We were proud to be a Blue Ribbon Sponsor for the Garden Club's Flower Show & Garden Market Bazaar. Let's…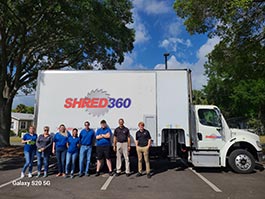 We hosted this event with our Shred Company, Shred 360 and recycling partner, Rocycle to offer our communities free secure destruction services. Together, we…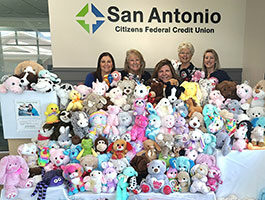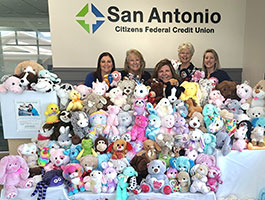 Proud to partner with AdventHealth Foundation to help supply furry friends to young patients at their Zephyrhills, Dade City and…
Our Story
San Antonio Citizens Federal Credit Union is a not-for-profit financial institution, federally chartered on December 12, 1955. Joe Collura, Joe Herrmann, and fellow community members founded the Credit Union with the commitment to promote the financial success of community members. Today, we are the longest-operating financial institution in Pasco County. With locations in San Antonio, Dade City, Zephyrhills, and Wesley Chapel, we are your community credit union.  
As a credit union, we are a collaborative where account holders are members and, as such, are owners not "customers." We continue to operate with our founders' guiding principle of "Neighbor helping Neighbor." This philosophy sets us apart from other financial institutions. We are a community of people leveraging our collective resources to help one another thrive.  Our vision is to be the difference that empowers dreams to be realized.
Discover the value of ownership for yourself at San Antonio Citizens Federal Credit Union.
Your Future. Our Community. Together.