2023 Scholarship Web Banner copy
2023 Annual Meeting Banner
March Christmas Club Web Home Page
Person Using Online Banking Service On Digital Tablet
Web Banner_Learning Lab copy
Testimonials
Three generations of our family are now banking with SACFCU. We all enjoy the excellent customer service provided.
Debra - a member since 1993.
I have been a customer for almost 16 years. The Friendly, helpful, and courteous customer service that my wife and I receive from SACFCU is exceptional. One of my favorite tellers is Savitri. She is... Read More from Michael -
Michael - a member since 2006.
I have the good fortune of banking with SACFCU for several years now. I find the staff in every single branch of SACFCU to be centered towards the member's best interest and welfare. The staff in... Read More from M. S. -
M. S. - a member since 2018.
SACFCU in Zephyrhills, Florida, has the best bank tellers with their outstanding customer service, resolved customer concerns and they help build customer loyalty. They have excellent communication... Read More from John -
John - a member since 2020.
"I enjoy the blends of professionalism and friendliness."
David - a member since 2001.
SACFCU has the most wonderful staff of customer service employees. For example, they are always cheerful and pleasant when greeting the customers. They always exhibit the willingness to assist the... Read More from Mary -
Mary - a member since 2012.
Submit a testimonial!
Community Involvement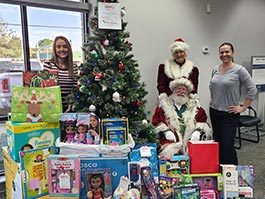 Our Holiday Partnership with Santa and Mrs. Claus of Scotty D. Charities provided a little hope and magic in the…
Our Story
San Antonio Citizens Federal Credit Union (SACFCU) is a not-for-profit financial institution, federally chartered on December 12, 1955, by community leaders Joe Herrmann and Joe Collura, with the commitment to promote the financial success of community members.  As a credit union, SACFCU account holders are members and, as such, are owners not "customers."  There is value in ownership.
The SACFCU mission statement is: "We are a community of people leveraging our collective resources to help one another thrive."  The Credit Union's vision is to be the difference that empowers dreams to be realized.
SACFCU is the longest-operating financial institution in Pasco County.  With locations in San Antonio, Dade City, Zephyrhills, and Wesley Chapel, SACFCU is your community credit union.
Discover the value of ownership for yourself. Join San Antonio Citizens Federal Credit Union.
Your Future. Our Community. Together.