Testimonials
"Standing by me when I need them most."
I have been with SACFCU for 7 years now and they have been very good to me, and standing by me when I need them most. I will bank no other place.
Anthony Sacco a member since 2012.
"We feel safe and secure with them."
We have appreciated the family like atmosphere at SACFCU for well over 10 years now. We feel safe and secure with them. Thanks for the awesome service!
Jeffrey Nutting a member since 2009.
"Keeps our banking needs simple to achieve."
Thank you to the great Zephyrhills branch providing customers with high quality, conscientious, patient personnel that provide us with unique banking services that keeps our banking needs simple to... Read More Paul L Ray Sr.
Paul L Ray Sr. a member since 2011.
"I love your bank."
I love your bank. Your service is excellent and I love the small town ambience that your bank exudes. Your girls are wonderful, very helpful, accommodating, and go the second mile. I love that. Thank... Read More Maria Olanda
Maria Olanda a member since 1991.
"They are always very kind & courteous."
All of the SACFCU Staff operate with the utmost professionalism. They are always very kind & courteous.
Tony Leger a member since 1991.
"I would recommend this bank to anyone!"
Since I was born I have experienced a family professional history with SACFCU. The professional courteous crew is all a person can ask for in a banking experience, everyone is very kind. I would... Read More Ben Gordon
Ben Gordon a member since 1970.
Submit a testimonial!
Community Involvement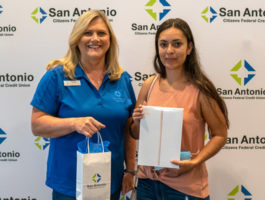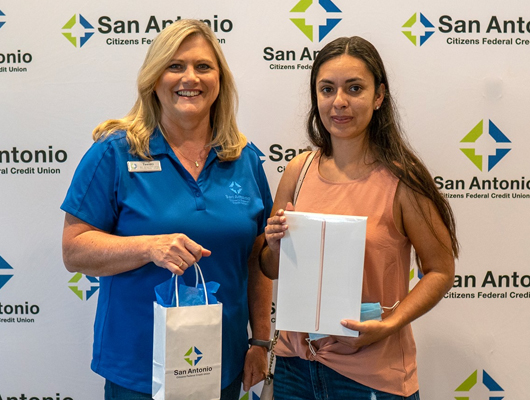 Congratulations to Sandra Gonzalez, the winner of our second quarter contest and a new Apple iPad! She was drawn from…
Our Story
San Antonio Citizens Federal Credit Union was chartered on December 12, 1955, in San Antonio, FL.  We began serving members on January 3, 1956, and we've continued to do so successfully for over 65 years.  We are the oldest financial institution in Pasco County still operating under our original charter.  Over the years, we've expanded to 4 locations; San Antonio, Dade City, Zephyrhills and Wesley Chapel.
Our unrelenting desire to create financially successful members is what inspired our founders, Joe Collura, Joe Herrmann and friends, to establish our Credit Union; and is the same guiding principle we live by today.  Our founders knew that by chartering a not-for-profit financial institution where the members are the owners, they would ensure years of successful operations based on the best interests of the members.
We encourage you to join our Credit Union and experience A Great Place to Bank!