Testimonials
I always feel like they have my best interest in mind
"SACFCU is THE place to bank! They offer all the services you need and help you with a smile. I always feel like they have my best interest in mind and never push anything on me."
John Grant a member since 1982.
Best place to bank on the planet!
SACFCU is the best place to bank on the planet! Everyone is friendly and helpful. I recommend all of my family and friends to bank at the credit union!
John & Manny - Owners of Sunrise Eatery a member since 2012.
I feel very secure banking here
Wonderful personalized service. It is a pleasure to bank here. Always welcome us with warm smiles. Also, I feel very secure banking here as they have excellent security.
Ralph Mendoza from Wesley Chapel a member since 2017.
SACFCU is a wonderful place!
SACFCU is a wonderful place! The girls in Wesley Chapel are so great to work with. Always very helpful! I love my credit union!
Robert Sanchez from Wesley Chapel a member since 2017.
Submit a testimonial!
Community Involvement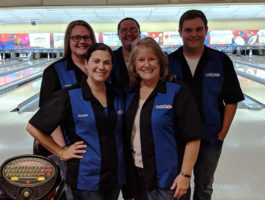 Your credit union staff had a great time sponsoring the Zephyrhills Chamber Incredi-Bowl benefitting local youth and education programs.
Our Story
San Antonio Citizens Federal Credit Union was chartered on December 12, 1955, in San Antonio, FL.  We began serving members on January 3, 1956, and we've continued to do so successfully for over 60 years.  We are the oldest financial institution in Pasco County still operating under our original charter.  Over the years, we've expanded to 4 locations; San Antonio, Dade City, Zephyrhills and Wesley Chapel.
Our unrelenting desire to create financially successful members is what inspired our founders, Joe Cullura, Joe Herrmann and friends, to establish our Credit Union; and is the same guiding principle we live by today.  Our founders knew that by chartering a not-for-profit financial institution where the members are the owners, they would ensure years of successful operations based on the best interests of the members.
We encourage you to join our Credit Union and experience A Great Place to bank!